Banking
Development
RIV_Bank - An information age banking solution
Over the years, financial institutions spent billion of dollars to integrate their application systems and endeavored to achieve their business and operation objectives, such as providing real time information access, customer centric, interoperability, standardization, etc. With RIV_Bank, integration is a choice but not a must. RIV_Bank not only provides banks a comprehensive banking solutions, but also extends the banking solution to electronic commerce, Internet delivery, and much, much more. It enables the banks to achieve the goals of customer acquisition, customer retention, and operation efficiency.
RIV_Bank is a multi-lingual and multi-currency solution operates on almost all commercially available platforms, such as Microsoft/Windows 2000, UNIX, Tandem's Guardian, OS/390 and OS/400. Its 3-tier distributed software architecture provides you an endless expandability, such as Internet, mobile and any new delivery channel as technology evolves.
RIV_Bank is a component-based Integrated Banking solution, consisting of Core Module, Savings/Deposits Module, Lending Module and Wholesale banking modules etc. There are also complementary products to RIV_Bank which banks can leverage on to better enhance their services and productivity.
RIV_Bank Core module, comprising General Ledger, Central Liability System and Customer Information System, provides the bank a centralized view on each customer and their total relationship with the bank, a truly customer centric system allowing the bank to manage effectively the relationship based on the customer's total portfolio. It helps the bank to perform relationship pricing, preferential service, customer-oriented call center, Internet banking services, data modeling and profitability measurement, etc. It further offers the bank a means to better the banks liability portfolio and risk management.
The Savings/Deposits module brings an entire deposit-processing capability to the banks. It supports Savings accounts, Certificate of deposit (CD), Time deposit and with a sub-system to handle Checking account. It also provides features on operational reporting, inventory checking, regulatory reporting, service charges, CD renewal and rollover, etc.
Lending module allows banks to provide flexible services in installment loan such as Mortgage Loan, Equipment Loan, Vehicle Loan etc and simple interest loans such as Personal Loan, Tax Loan and SME Loan etc. Loans module further supports Commercial Lending, Syndicated Loan and other Trade Finance Loans such as Packing Loan etc. Each Loan system further supports multiple loan types with sophisticated and yet flexible repayment methods.
Riviera' Wholesale Banking module consists of a list of sub-modules supporting middle- and back-office operations for Trade Finance, Treasury, Commercial Lending, Capital Market and Remittance. Trade Finance module handles letters of credit (LC), Inward Bills, Inward Collection, Shipping Guarantee, Inward Loans, Bankers Guarantee, LC Advising, LC Transfer, LC Negotiation, DA/DP Bills, Outward Loans, LC Reimbursement Claim, Margin and AR/AP functions with interface to SWIFT, Telex, Fax and local clearing networks such as RTGS, MEPS. The Treasury module supports FOREX and Money Market products such as Spot and Forward Deal, FX Swap Deal, FX Option Deal, Interest Rate Swap, Deposits Taking, Deposits Placements and other Negotiable Instruments. Flexible processing functions, such as contract entry/amendment, multiple settlement methods, accounting entries generation and confirmations etc., are provided to ease the operation handled by the Treasury Staff of the bank. It also offers rigorous risk management allowing staff to monitor customer limits and positions on-line real time. The Capital Market module provides portfolio management functions for long-term investment vehicles such as Fixed Income products, Securities and other Derivatives etc. It further provides buy/sell matching and cancellation, revaluation, and discount/premium amortization, etc. The Remittance module offers rich functionalities which support Inward and Outward Remittance and Clean Bills operations.
All modules of RIV_Bank are capable to handle different service channels including front-office such as teller terminals with passbook printers and PIN pads, customer service representatives, workstations, Internet and XML service channel etc. Besides, all modules provide standard interface to other members of the ecBanking suite and third party financial systems currently used by banks.
Banking Product Architecture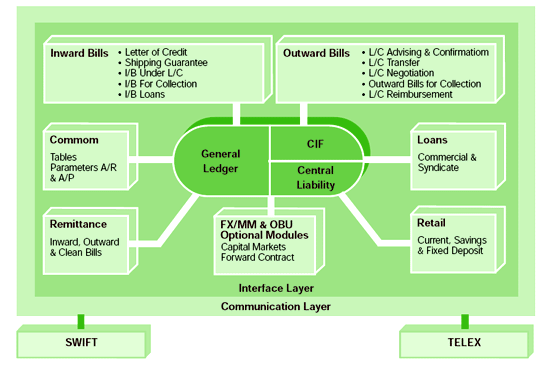 Platform Supported: OS/390, OS/400, AIX, MS Windows Server
Database Supported: Oracle, DB2, MSSQLServer, MySQL
RIV_Factoring - partners you to enter into the factoring market
Factoring refers to the contractual relationship amongst seller, supplier, exporter and factor (a financial institution, normally a bank). Factoring business is a kind of integrated financial services including trade finance, commercial information investigation, account receivables management and credit risk control.
According to the contract, the seller will transfer the account receivables resulted from the present or future goods sales/services orders with the buyer (the debtor) to the financial institution that offers the factoring services (the factor). The factor will provide to the seller at least one of the following services:
This service will generate agency commission based on a ratio of the sales order amount and collect interest on discounted amount. Interest rate applied will normally be higher than the prime rate. Therefore, factoring business is a high return product compared to traditional banking products. In the growing competitive environment in traditional loan business, commercial banks have to turn their focus to other servicing businesses and factoring business has become one of the servicing businesses with large market demand.
RIV_Factoring system provides functionality of international level to the banking operations of factoring business. It provides online real time factoring transaction processing and automatically handles the accounting processing, customer sales order management and account receivable collection.
RIV_Factoring has the following businesses:
Functionality
Bank users can use RIV_Factoring to maintain customer information, interest information, settlement information, credit line information, and fees and commissions collection etc.
User can also make adjustment and amendment to the interest information, make advancement to the maturing transaction, collect commissions and interest.
RIV_Factoring allows the waiver of principal or interest for early repayment and information maintenance of transactions under dispute, including dispute reason update and removal of cancelled transaction with outstanding balance and interest or error transaction.
Edge
PRC has started to see the international factoring business being evolved since 1992. With closer cooperation with international factoring organization, banks in PRC strive to put forth factoring business in the market. To keep in line with this market need, RIV_Factoring possesses fast servicing and comprehensive functionality which will help the banks to expand this emerging business in a rapid pace and grab a market share in the growing factoring business market.
The SME contributes to 60% of the GDP and the loan amounted to 15% of the total loan portfolio. Therefore the potential market of factoring business would be estimated to be at least 20 billion yuan. Currently, due to the fact that the mainland enterprises normally have a single and simple financial management channel, it is common and is not likely to think of financing for their receivables. Once this concept has been changed, and with the creation of a complete credit system, the need for factoring business will soar up. RIV_Factoring, as a mature and ideal solution, shall undoubtedly become a reliable partner for banks to enter into the factoring market.
RIV_Trade Convenient and common sharing of a commercial document tool
Inquires made
Being a bank, if your enterprise customers who have made more than 3 'yes' replies to the above inquires, your customers have reflected a palpable signal: They need to have an e-commercial document tool same as RIV_Trade to provide them a total paperless electronic trading economic activity.
Design Concept
RIV_Trade's design concept is with a view to providing a platform for both trading and commercial organization to generate their own trading or commercial documents and reports. On RIV_Trade platform, customers are allowed to format their own designs or documents freely, subsequently providing themselves not only the establishment of a documental database but also a reusable database.; at the same time, via networking, achieving a paperless electronic document transmission channel. Having the bank as the CORE, RIV_Trade platform acts as an internet banking and renders internet service platform to its enterprise customers. Enterprises can well take advantage of RIV_Trade to perform their own internet document customization such as export documents, which are transmitted later via internet to their corresponding banks. From that onwards, the bank will be able to make use of the customized documents templates provided by the enterprises to prepare the export documents together with the Foreign Exchange Declaration in a one-way-process for its customers.
RIV_Trade has more value-adding services to the bank customers by providing unrestrained format customization; document storage and different report templates. The system uses flexible XML data format to enable user-friendly format design for the enterprises to perform easy document rearrangement and reporting, eliminating the hassle of document delivery by hand as well as the missing of MIS reports due to the absence of analytical data caused by the using of mere internet service.
Preponderance of RIV_Trade